Cuttyhunk is a jewel in the Elizabeth Island chain. A protected harbor and abundant natural resources of brisk wind and pristine water has allowed this island to develop into a unique community of independent, inventive, and hardy souls. It is also located at the mouth of Buzzards Bay where, from our country's early history, many passenger and commercial vessels pass as they make their way north from New York and points south.
Because of its strategic location along the busy coastal seaway, and due to the shallows and reefs around the island including the infamous Sow & Pigs and "the Graveyard," Cuttyhunk developed an economy in the mid-1800s piloting and rescuing ships in distress. By 1847, the Massachusetts Humane Society established three buildings on the island where volunteers were trained and equipped to assist stranded vessels and conduct sea rescues, according to a 2015 article in the Martha's Vineyard Times by Nancy Dunn. Later, to augment and coordinate these volunteer services, the United States created the U.S. Life-Saving Service, which became part of the U.S. Coast Guard on its founding in 1915.
Because of the islanders' excellent service through the Humane Society, Dunn said, "Cuttyhunk received one Life-Saving Station, built near Canapitsit in 1889. Later there were as many as 16 men were stationed on the island, but at first, there was only one keeper and six surfmen. The keeper's salary was not to exceed $800 a year, and the surfman received $50 a month plus living quarters…At first, there was rivalry between the new Life-Saving Station and the long-established Humane Society to see which group could be the first to reach a shipwreck, even though some of the men served in both groups. Following the tragic loss of several Cuttyhunk rescuers in the attempted rescue of the brig Aquatic in 1893, the groups fully cooperated, and competition stopped." Dunn reports many other high-profile rescues throughout the years until the station closed in 1964 with service moving to Woods Hole and Menemsha on Martha's Vineyard.
Saltonstall Architects' architectural scope involves renovating one of the last two original remaining structures in this story. The U.S. Coast Guard built a boathouse near the town's ferry dock in 1938, which survived the devastating hurricane and all since. The sturdy Colonial Revival building, now owned by the Town of Gosnold and mostly original, sits on pilings and includes three 12-foot bay doors facing the channel, original wood-plank flooring, and railway tracks from which the Coast Guard launched their rescue operations. We are enjoying the opportunity to collaborate with the town's committee as we reimagine the Coast Guard facility as a visitor center that celebrates this unique island community and its rich history in service to mariners.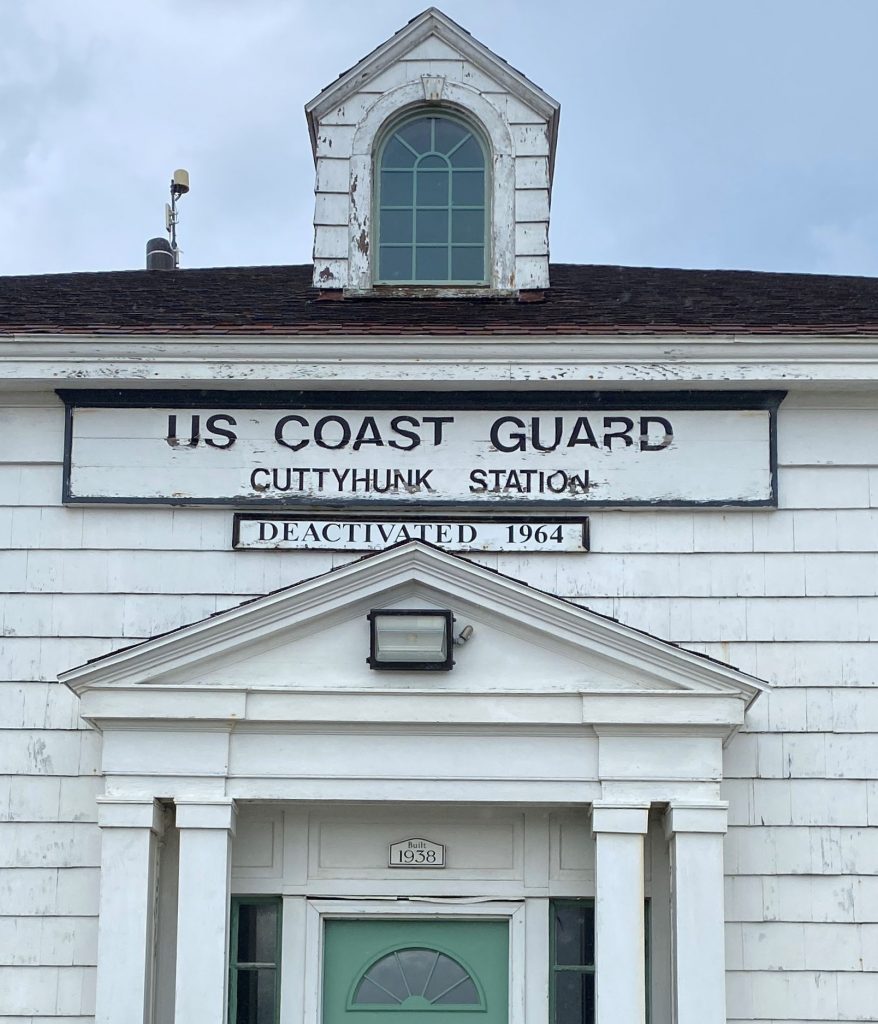 Renderings of proposed visitors center: